Optatumplatform, lead change of payment.
Fast and accurately, safe and simply.
With its safety, accuracy and fast payment system OPTPAY is firmly establishing its position in domestic and foreign electronic payment markets.
With many competitors already existing and competitors also releasing new services latecomer Optatumplatform Co., Ltd. offers various benefits to franchisees and interested parties to have a competitive advantage.
It aims to provide technology-based PG and various platform services that develop various platforms and evolve new businesses such as various payment services and prepaid rechargeable purchases, not just electronic payment agencies.
Company info
· Date of foundation ·
Oct 17, 2018
· Business area ·
Electronic payment agency business, Payment agency platform development
Core Value
We
exist to create trust in the hope
that people and the world have beneficial values.





History
Introducing Optatum's path through.
Year 2021
09
UK CLIENT VELOX SOLUTION Overseas Representative Franchise contract
08
UK CLIENT BLOOM FINANCE Overseas Representative Franchise contract
03
CANADA CLIENT MAINGROUP TECHNOLOGY
03
CANADA CLIENT MUVON PAYMENT LTD international card payment agency service provided
03
Patent application for blockchain-based international card payment system that can verify real-time AML
01
Self-development PG SOLUTION copyright registration completed
Year 2020
09
CYPRUS CLIENT STARTLING LIMITED
- Overseas Representative Franchise contract
09
NOVUM FINANCIAL TECHNOLOGIES PTE. LTD.
- international card payment agency service provided
07
SINGAPORE CLIENT – NOVUM FINANCIAL TECHNOLOGIES PTE. LTD.
- Overseas Representative Franchise contract
05
Registration of licenses for other specialized foreign exchange services by the Ministry of Economy and Finance (Other specialized foreign exchange license number 2020-24)
04
EUROPE CLINET SREDA MONAY OU
- Overseas Representative Franchise contract
03
Anti-Money Laundering system adopted
(DOW JONES AML)
Year 2019
11
Foundation of Corporate Research Institute
10
SIA ROYAL PAY EU Consignment Settlement Agency Service Provided
09
EUROPE CLIENT SIA ROYAL PAY EU
– Consignment Settlement Contract
08
VISA CYBER SOURCE & KEB HANA GLOBAL & ROYAL PAY
- Multi-Currency Acquiring Agreement
08
VISA CYBER SOURCE Contract
08
KEB Hana Card MCA Contract
07
Bu-cheon Technical Development office transferred to Busan
05
Registered of an authorized member of FinTech Industry Association (member number FIN332)
03
Electronic Finance - Electronic Payment Agent Registration (Financial Supervisory Service Formal Number 02-004-00132)
03
Financial Supervisory Service other financial industry licenses approved
Year 2018
10
Bu-cheon Technology Development office opened

10
Foundation of a corporation for foreign investment companies

Certification and Registration
Providing safe payment of domestic and foreign credit card payment system through a system agreement between DOW JONES's AML & WATCHLIST, with a global verification agency VISA CYBERSOURCE's 3DS Authentication system.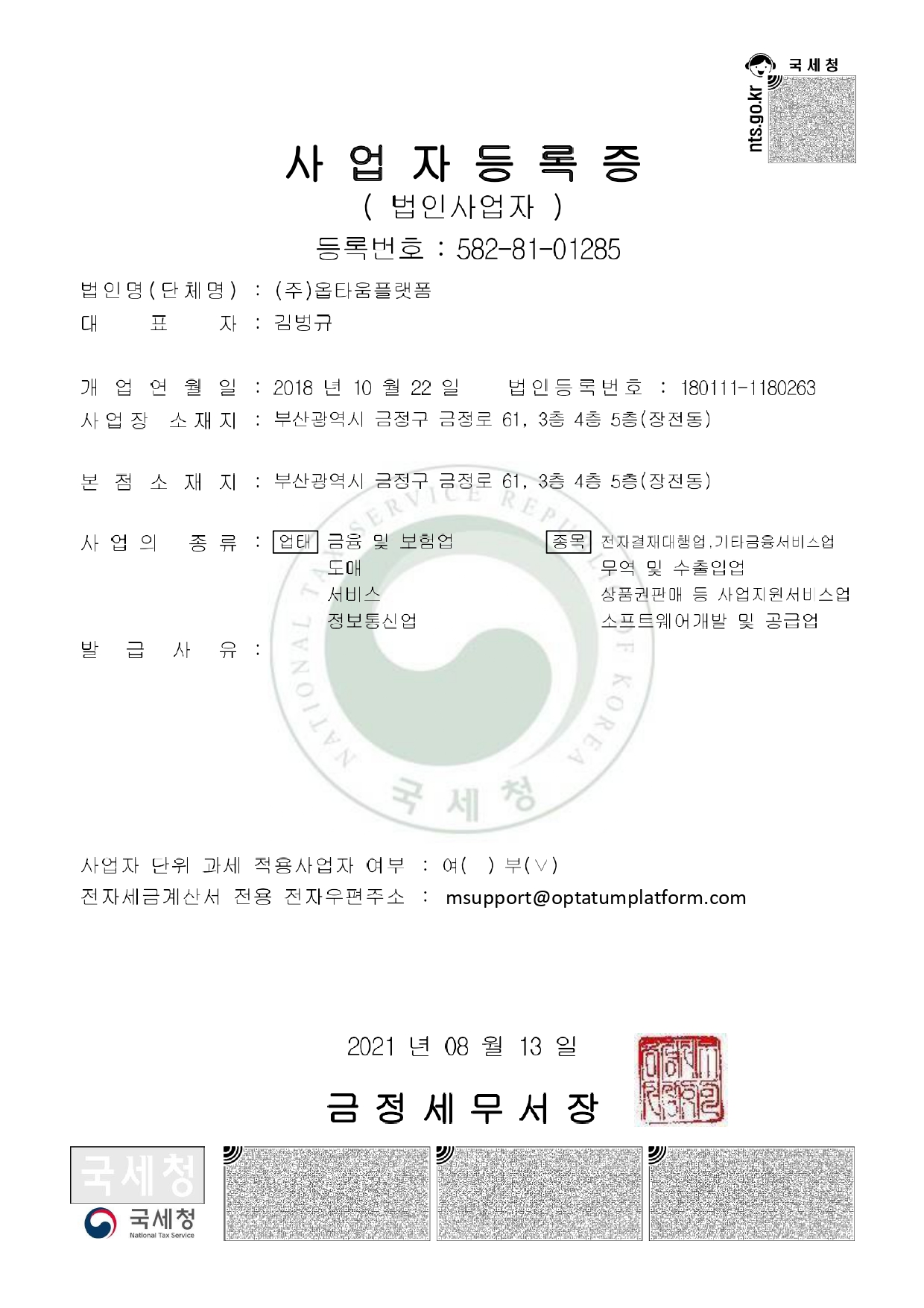 Business License
582-81-01285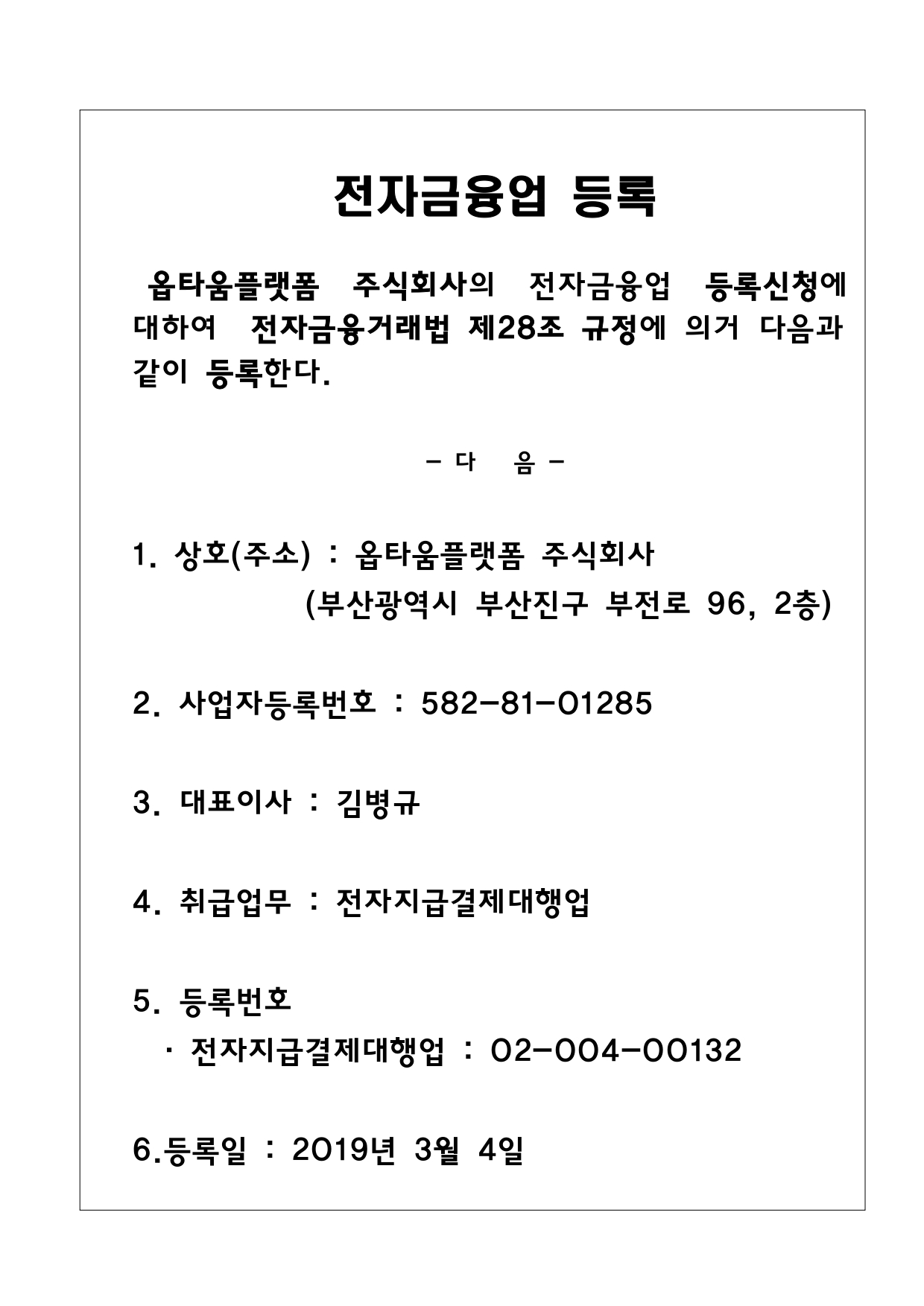 Electronic Payment Agency
02-004-00132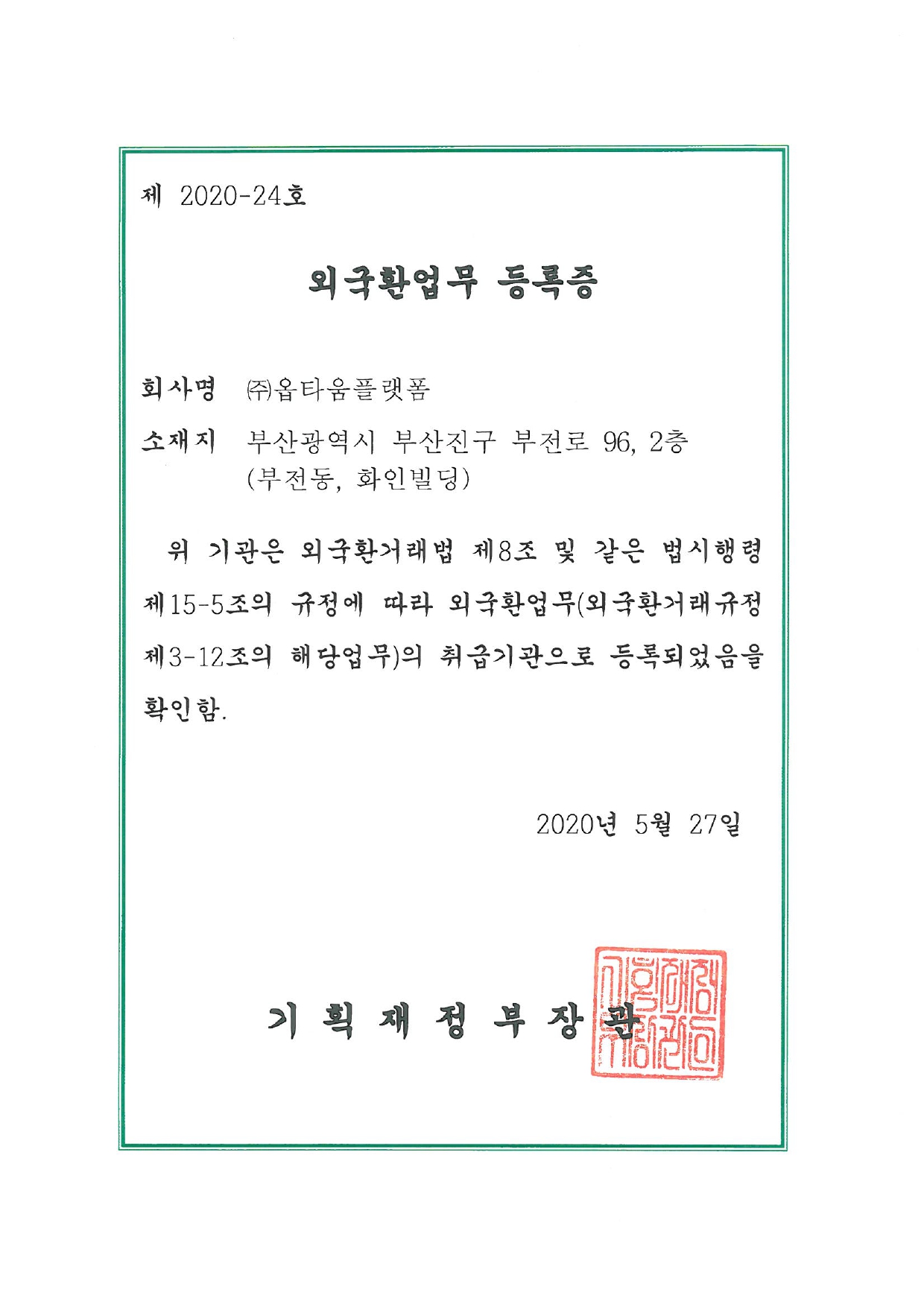 Foreign Exchange Business Registration
No 2020-24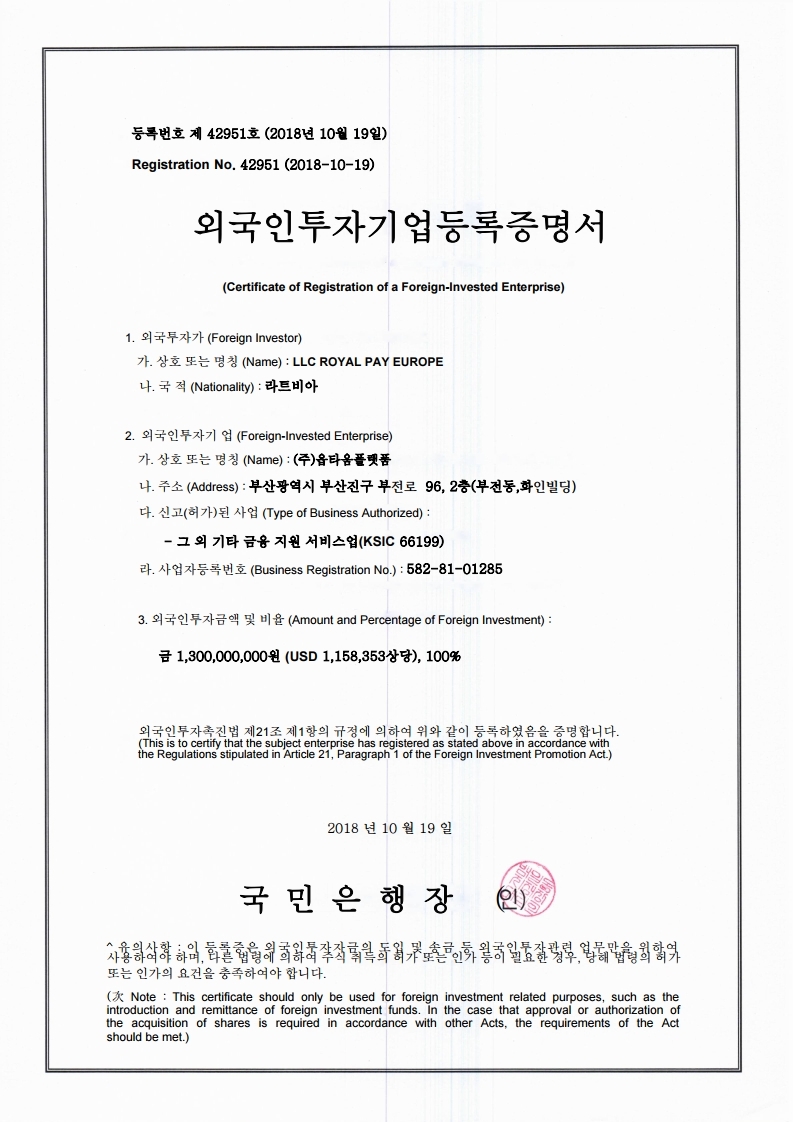 Registration of Foreign-Invested Enterprises
No 42951
Partner
Global partner with Optatumplatform.




















Organization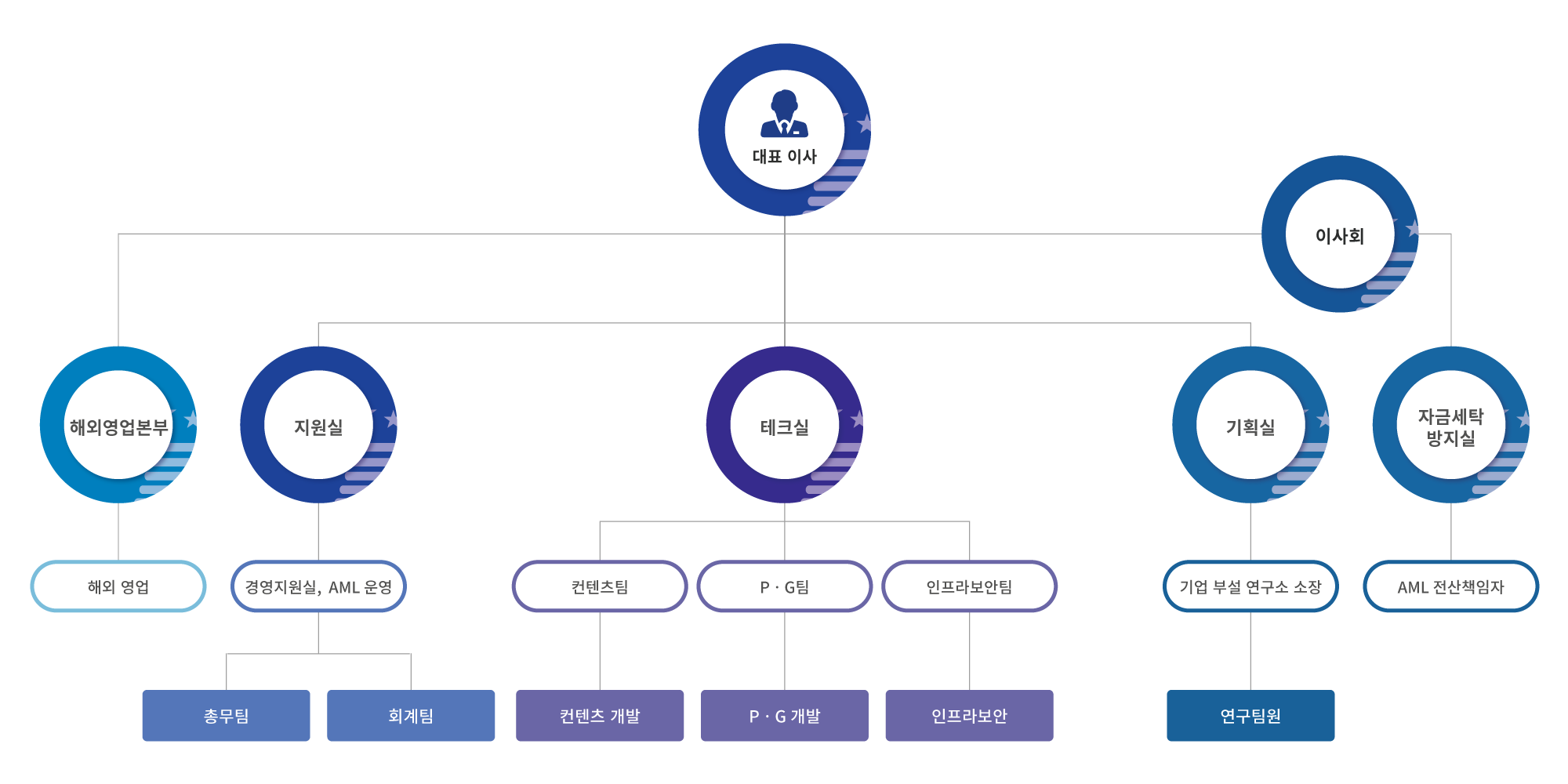 Directions

Address
3~4th floor, 61, Geumjeong-ro, Geumjeong-gu, Busan
1577-6281

Business day 09~18 operation | lunch break 12~13:30

(Sat, Sun, National holiday off)